MyKāingaOra is an online way for our tenants to check their accounts, rent balances, maintenance requests and so much more, similar to MyMSD and MyIR.
You can now register yourself
You need to be a current tenant, and have an email address registered with us. Follow the link below to sign up using your Customer Reference number and email address. It's that easy.
https://my.kaingaora.govt.nz/(external link)
If you have an issues you can complete the form below or call the Contact Support Centre.
What can you do
Once you have access to MyKāingaOra there is a range of things you can do:
Check your account balance & transactions, for both rent & maintenance.
See your account history for the last 3 months.
Create a PDF of your rent & maintenance account transactions.
Check upcoming rent payments and appointments – like annual inspections.
View your maintenance jobs and request maintenance.
Check & update your profile information e.g. mobile phone number & email address.
Check we have your right bank account details so any refunds go to the right account.
See who your Tenancy Manager is.
Access Wellbeing services (1737).
Register for MyKāingaOra
Complete the form below to register for MyKāingaOra and we'll get in touch.
Alternatively, call the Customer Support Centre on 0800 801 601, 8am – 6pm, Monday to Friday to register over the phone.
Save MyKāingaOra for easy access
Once you're registered you can use this quick reference guide to help save the MyKāingaOra web link onto your mobile phone Home screen.
Setting a new PIN

As part of the change to MyKāingaOra you will need to reset your PIN to use the portal.

Keep your PIN somewhere safe and make sure your details are up to date.

We have the instructions below or you can watch a short video.

On the Login screen select 'Reset your PIN'.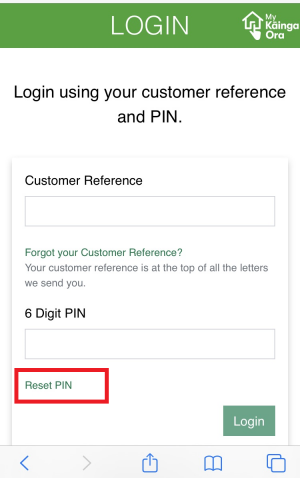 This will send you an email with a link to 'Set up your own PIN'.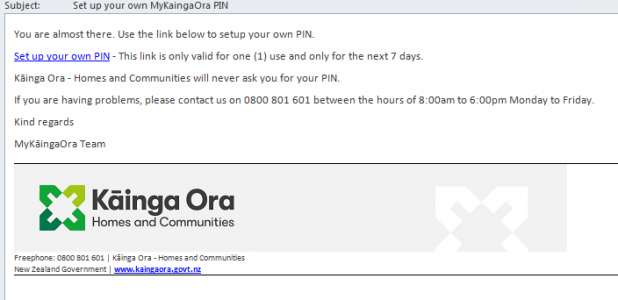 Click the link and you will go to 'You need to set a new PIN' screen.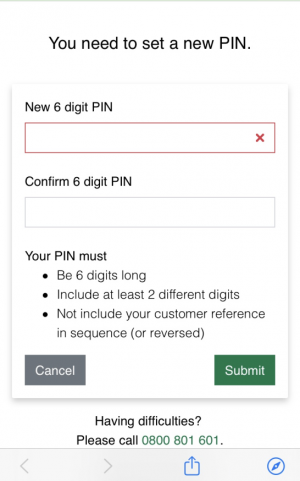 Choose a new PIN, this cannot be the same as your previous one. Click 'Submit'.
If you have any problems resetting your PIN or need help call the Customer Service Centre on 0800 801 601, 8am – 6pm, Monday to Friday.
Contact Us
We have a dedicated team to answer your questions and help you with anything MyKāingaOra-related.
Email: MyKaingaOra@kaingaora.govt.nz if you:
have any questions or
want to give us feedback or make a suggestion about MyKāingaOra.
Page updated: 23 March 2020