Kāinga Ora Passive Houses
Passive House is a performance based standard that is first and foremost about delivering on a promise: a comfortable, well-ventilated home that needs very little energy.
These homes regulate their own temperature through smart design, the use of high performing construction materials, and a mechanical ventilation system with heat recovery.
For our customers, living in a Passive House means more affordable heating, fresh indoor air quality and comfortable and healthy temperatures year-round. Environmentally, it means we're delivering high performing homes with significantly reduced operational carbon emissions.
Passive House is still a very new concept in New Zealand, and it takes a specialised design team to achieve the Passive House standard or equivalent performance.
Passive House features
Here's how Passive House and Homestar features [PDF, 128 KB] work together at Bader Ventura.

Airtight Construction

Airtight thermal envelope
Minimum of penetrations
Seals around joins/junctions

Mechanically Ventilated

Very quiet, continuous mechanical ventilation system with heat recovery
Fresh, filtered air to all rooms

Insulation

Specially insulated pre-cast panel construction
Insulation backed plasterboard on internal lining
Fully insulated floor
Structurally Insulated Panel (SIP) creating a warm roof

High Performance Windows

Thermally broken uPVC double glazed windows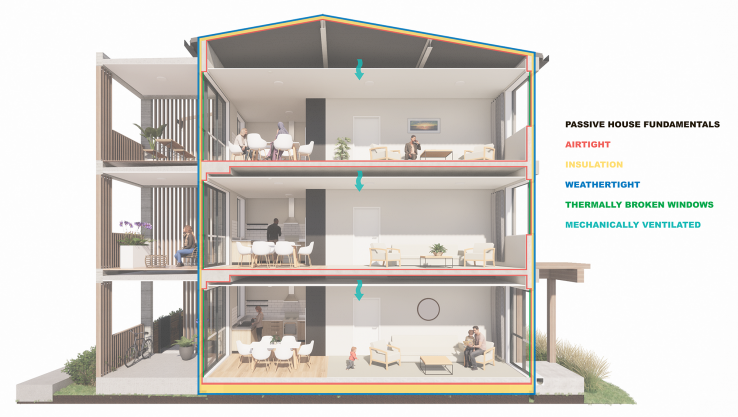 Passive House pilot
We are pleased to be leading lower carbon construction by example in our Bader Ventura development. Bader Ventura is the first Passive House pilot development for Kāinga Ora and the first in its Carbon Neutral Housing Programme. The project is Australasia's first Passive House public housing funded by central government.
Industry leadership
As an innovation pilot, Bader Ventura aims to understand the benefits of Passive Housing and help build capability in low carbon construction. The potential wellbeing outcomes for public housing customers are considerable, and for Kāinga Ora as the country's largest developer this is a big step towards helping achieve the sector's climate change targets.
Over the next 12 months, Kāinga Ora will measure the performance of these homes to see if the predicted benefits are realised. This means measuring indoor air temperature and humidity, air quality, hot water and electricity usage. This information is critical to informing future Kāinga Ora build standards, and improving sector-wide knowledge and capacity.
Passive House certification process
Receiving Passive House design endorsement means construction can begin based on an approved design.
On-site testing and calibration is carried out. Blower door testing is done twice at different stages of construction and the ventilation system is commissioned (tested and adjusted). Key parts of the construction process are carefully recorded with photographs and supporting documentation.
The certifier reviews all of the documentation against the Passive House standard to verify the building was built according to the design and has met its performance targets, and if so, certification is issued.
Resources
Page updated: 4 September 2023