Training and apprenticeships
We are using the scale of our build programme to increase construction training opportunities through initiatives such as our apprenticeship and building academy programmes.
Apprenticeship programme
Kāinga Ora has a cadet and apprenticeship programme where it works with training and pastoral care providers, build partners, and sub-contractors to help keen New Zealanders into trades apprenticeships, supporting them and their employers to maximise their success.
Since launching our apprenticeship programme in 2019, over 250 Kiwis have successfully entered into cadetships and apprenticeships with our partners across our state housing programme. We are actively seeking to recruit more women, Māori and Pasifika, as well as customers, into apprentices. In our new large tenders, 50% of apprentices must come from these priority groups.
By helping more New Zealanders into fulfilling trade careers, Kāinga Ora and its partners aims to help grow New Zealand's pipeline of skilled construction workers, while also producing more new state homes and contributing to the wellbeing of people and their local communities.
Our apprenticeship programme partners include the Building & Construction Industry Training Organisation (BCITO), the Ministry of Social Development (MSD), and the New Zealand Institute of Skills and Technology. We also work with local service providers, many of whom support our Māori and Pasifika communities.
Building Academies
Kāinga Ora partners with two school building academies, as well as Unitec to increase the supply of homes and provide industry training opportunities for young people. The Massey High School Building Academy and the Dargaville High School Building Academy provide a pathway for young people to enter the trades and gain experience in carpentry, plumbing and electric work, while working under the supervision of registered builders and teachers. The homes are built on the school campuses, then transported to areas in need of housing.
Our partnership with Unitec will deliver four relocatable homes which will be built by students at Mt Albert campus.
MATES in Construction
The construction sector has the highest proportion of suicides across all industries in New Zealand, and Kāinga Ora believes it can play a role in enabling tradespeople experiencing mental health issues to get help when they need it. That's why we partnered with suicide prevention and mental health charity MATES in Construction in 2020.
The MATES in Construction programme, which is being rolled out at Kāinga Ora build sites, is an onsite suicide prevention programme led by industry that's about encouraging construction workers to look after each other and seek, offer and accept help when its needed. It aims to build skills and awareness in mental health and build this into everyday work activities.
MATES in Construction has been profiled as an example of global best practice in suicide prevention by the World Health Organisation (WHO) in their publication Live Life: An Implementation Guide for Suicide Prevention in Countries(external link).
Construction Plus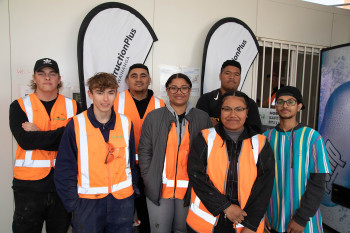 Through Construction Plus, Kāinga Ora helps local communities impacted by urban development, by connecting people with training, employment and industry opportunities across Auckland and New Zealand. The scheme puts secondary school students in touch with our civil works partner Piritahi and gives them opportunities for work experience.
Corrections programme
Our partnership with the Department of Corrections is also helping us to build momentum towards increasing the supply of warm, dry houses.
Kāinga Ora works with Rolleston Prison and Spring Hill Corrections facilities in a scheme where prisoners gain skills in construction while refurbishing existing state homes at construction yards on site at the prisons. These houses are then moved onto Kāinga Ora land to become homes for our customers. This programme has been expanded to also include new state homes being built through this collaboration.
Read more on the Rolleston Prison and Spring Hill refurbishment programme
Page updated: 6 July 2023