Our urban development story
Urban development is central to how Kāinga Ora is creating and contributing to thriving communities. We partner with iwi, Government agencies, organisations and communities to connect people with jobs, transport, open spaces, facilities and the homes they need.
Kāinga Ora is the government's Urban Development Authority. Our role is to enable build ready land for different types of housing and, through best practice urban planning and design, ensure the neighbourhoods those homes are in have the infrastructure and amenities to make them a great place to live.
We can do this because we're involved in every aspect of the urban development process – from advocating for better planning outcomes for towns and cities, to designing entire neighbourhoods, from purchasing land to enable homes in areas of need, to installing infrastructure and developing build-ready land.
We don't do this alone; we partner with iwi, Government agencies, councils, organisations and communities to ensure we achieve our shared desired outcomes for the area we are working in.
Take a look at our Urban Development Strategy to find out more about how we are working to positively transform, facilitate and deliver successful urban development across Aotearoa New Zealand.
Making New Zealand a great place to live
Everyone deserves a roof over their heads, and Kāinga Ora has a key role to play in achieving this goal. We are doing this by enabling a range of housing opportunities for Kiwis, including public housing, affordable housing to rent and own, options for first-home buyers and market housing of different types, sizes and tenures.
The Kāinga Ora Land Programme is one of the key tools we use to enable the delivery of more housing. Through the programme, we acquire and develop land in areas of high need, and increase the pace, scale, and mix of housing developments so that more Kiwis can live in warm, dry, healthier homes.
Learn more about the Kāinga Ora Land Programme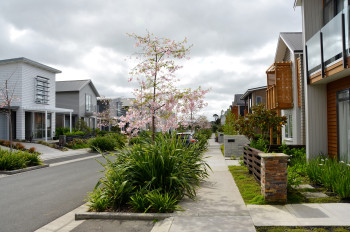 We also recognise the things that make a house into a home span far beyond its four walls.
We're not just helping to build homes, but creating a network of connected communities close to employment, education, transport and the facilities people need to live well.
This means new and upgraded infrastructure like roads, electricity, water and drainage. It's about providing things like parks and outdoor spaces where people can come together, and at the same time it's about protecting and enhancing our natural environment for generations to come.
To achieve these outcomes takes quality planning and design; this process often starts long before the first shovel hits the ground.
Our experienced urban planners, designers and developers support our organisation to undertake these complex activities. They also provide advice to central and local government, stakeholders and Ministers on a range of urban development interventions, including plan changes, regulating complex urban development projects, strategic partnerships, masterplanning, and urban design, helping to ensure consistent quality urban development outcomes across the motu.
Learn more about our design guides
Understanding how people will live now and in the future
Although Kāinga Ora builds on a massive scale, we're focused on the detail around how people will live in their neighbourhoods. How will they travel, play, gather and connect? Together with our partners, we build the infrastructure around a community to create a sense of belonging.
New and regenerated communities attract more than a great mix of new families and individuals to the area. Often, they create jobs – workers to build the homes, roadways and parks, teachers for any additional schools that are needed, or staff for new shops and cafes.
When we all work together, a housing development becomes a flourishing community. Our build partners provide apprenticeships, and those new homes lead to the need for new businesses and amenities. These create service industry and other career opportunities for the likes of maintenance staff, gardeners and health workers. We consider everything needed to support a bustling new community.
By building strong infrastructure and attractive amenities, by working with transport providers to provide links making commuting to work and day-to-day business easy, our urban development projects help drive growth and prosperity to benefit everyone.
View our current urban development large scale projects
View our public housing developments
Sustainability is a big part of our thinking
Kāinga Ora has a big part to play in reducing our footprint across all our activities and in helping to build community resilience against the impacts of climate change.
We're taking a leadership role in helping to decarbonise the construction sector, improving the biodiversity in our communities by planting urban forests and restoring waterways; and by sorting construction waste on site into recycling, we're significantly reducing the amount of waste going to landfill.
Learn about our work in sustainability
We want to be an industry leader, and an agency that delivers exemplary urban development outcomes.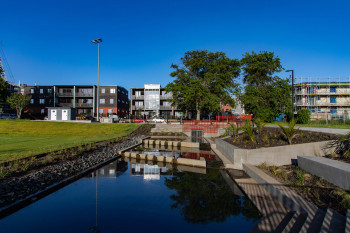 This means we must constantly use our scale to try new things, bring new ideas to urban development projects and add value through a wide variety of approaches. One such example is our new Passive House development, which not only has a lower carbon footprint and improved wellbeing outcomes, but is also helping shift the dial on low carbon construction in New Zealand.
Learn about our innovation within construction
As we shape neighbourhoods, we're leaving the planet better than we found it. Making an area 'build ready' also means we're restoring contaminated land and enhancing the mauri of our precious ecosystems. Due to the scale of the projects we deliver, we work with our partners to rejuvenate degraded taonga, providing additional environmental benefits to the community. Not only do these improved spaces provide places for people to connect and for wildlife to thrive, in some instances, they also help mitigate the risks of flooding.
We consider flood risk in all Kāinga Ora developments, undertaking climate change risk assessment during planning for all our significant projects.
Learn how we are building climate resilient homes and communities
Building Brighter Futures Together
We cannot achieve our goals alone, so we form partnerships with Māori, all levels of Government, businesses, private organisations and communities. These partnerships are critical to our ability to produce results for New Zealanders.
We're spreading construction opportunities across the industry. In addition to acquiring and developing 'build ready' land, we sell some of it to private developers, so they too can help increase supply over the entire housing spectrum.
We're also using tools such as Specified Development Projects (SDPs) to enable large-scale and / or complex urban development projects, often involving multiple landowners, to get underway. This process is designed so that the planning, infrastructure, land use and funding arrangements are sorted upfront, helping to overcome the barriers that can often stop projects from proceeding.
Learn about Specified Development Projects
Working together to deliver
As the government's urban development authority, it is our role to give effect to (deliver) the government's long-term priorities for housing and urban development. These are set out in the Government Policy Statement on Housing and Urban Development (GPS-HUD).
The GPS-HUD vision is that everyone in New Zealand lives in a home and community that meets their needs and aspirations. This vision, and the four main objectives under the GPS-HUD, are closely aligned to those in our own Urban Development Strategy.
The government has outlined a number of shorter-term priority areas and work programmes to ensure we can meet these longer term outcomes.
This includes the Urban Growth Agenda (UGA), a government-wide programme aiming to improve housing affordability by removing barriers to the supply of land and infrastructure and making room for cities to grow up as well as out.
Under the UGA, central government is expected to partner with local governments and iwi so investment in infrastructure delivers connected, thriving and sustainable urban communities. These partnerships, known as Urban Growth Partnerships, include other government agencies and focus on issues such as spatial planning for an area, a long-term and integrated approach to land use, and infrastructure planning.
Kāinga Ora is one of partners involved in this work programme, and the initiatives outlined help inform our priority areas in terms of investment.
Learn more about the Government Policy Statement on Housing and Urban Development(external link)
Learn more about the Urban Growth Agenda(external link)
Page updated: 21 June 2023