Building climate resilient homes and communities
We recognise the importance of building homes and communities that are resilient to our changing climate.
Innovative urban design, integrated nature-based approaches, and significant infrastructure upgrades are just some of the ways we are increasing the resilience and environmental sustainability of Kāinga Ora developments throughout Aotearoa New Zealand.
We work closely with local and central Government, mana whenua, our build and development partners and the community to deliver high-quality urban developments that will not only benefit communities today, but in generations to come.
Our role as the Government's Urban Development Agency
As the New Zealand Government's urban development agency, we advocate for, and advise on, good urban planning and design throughout Aotearoa New Zealand. We work closely with central government ministries responsible for relevant legislation such as the National Adaptation Plan and Emissions Reduction Plan(external link) (Ministry for the Environment), Transport Emissions Reduction(external link) (Ministry of Transport) and the Government Policy Statement on Housing and Urban Development(external link) (Ministry of Housing and Urban Development).
We work with local authorities throughout the country to support a strong risk-based approach to natural hazard management in district and unitary plans, and advocate for improving the quality of natural hazard information, including on flood risk, so that good decisions about development can be made.
Assessing and mitigating climate risks in our developments
In our large-scale projects, thorough investigations of all climate-affected natural hazards impacting on potential development sites, including overland flow paths and floodplains, are completed as part of obtaining approvals from our local authority partners. This work includes land surveys, stormwater modelling, and designs to mitigate against flooding events. We work closely with local authorities to identify suitable locations for stormwater management devices such as detention ponds, to help alleviate flooding and assess whether water can be treated before it goes out into waterways.
Our smaller scale projects are also subject to the same type of investigations alongside local authority partners. This ensures that as much of our work as possible, right down to the individual dwelling, makes valuable contributions to minimising and avoiding the impacts of climate-affected natural hazards.
Since June 2022 all significant Kāinga Ora projects undertake a climate change risk assessment during planning. This includes assessing exposure and vulnerability to flooding, and mitigating actions for all highly rated risks.
Building resilience through infrastructure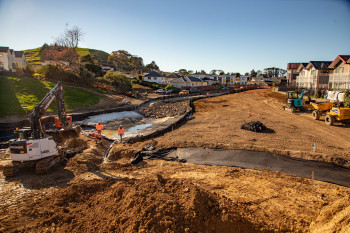 Working with our civil and infrastructure partners, we design and construct new and upgraded infrastructure to support our large-scale urban development projects.
Before building even starts, one of our first tasks is to consider how we can improve the capacity, quality and resilience of the infrastructure in the area, to ensure it can support the community's current and future needs. This work differs by development and location, but could include:
upgrading stormwater and wastewater networks to prevent overflows into backyards, parks and waterways
undergrounding power and telecommunication lines to protect them from severe weather events
upgrading reserves and green spaces to increase wetland capacity and improve stormwater retention
We ensure all infrastructure works for our urban development projects meet council requirements before beginning construction of new homes.
Case Study
We were pleased to see the positive difference our urban development work made to communities that would have otherwise been badly damaged by the Auckland flooding event in January 2023.
Designed to cater for a 1-in-100-year weather event (which the rainfall exceeded), new stormwater solutions in our Northcote, Mt Roskill and Ōwairaka large-scale developments functioned exactly as expected, diverting huge amounts of water away from homes and draining it away in a safe and controlled way.
A good example is Greenslade Reserve in our Northcote Development. This reserve is not only a sports ground and park for the community, but also a stormwater retention basin. During the floods it filled up, containing the vast majority of the floodwaters, and by the next morning, all the surface water had drained so families could return to playing on the grass.
A collaboration with local mana whenua, Auckland Council and council organisations, this infrastructure is a crucial component of the thriving communities we are developing, supporting the resilience and environmental sustainability we will need long into the future.
Watch: Our civil alliance partner helping us with this work, Piritahi, has a great video explaining the effect the recent floods had on our developments: https://lnkd.in/gg9pSmVP(external link)
Read more: Greenslade Reserve does its job in Auckland's floods » Northcote Development(external link)
Innovative and sustainable urban design
Our approach to urban development recognises that places, cities and towns aren't just built things. Good urban design must also provide amenity and enhance the environment.
Putting sustainability at the core of our developments
Our Hobsonville Point development is an example of how careful planning and innovative urban design can help achieve environmentally sustainable outcomes. Water management in particular was a key focus when planning out this area, to minimise impact on the nearby harbour. Homes were built with rainwater tanks to help reduce the amount of stormwater entering the system. Rain gardens and bio-retention swales were designed, and more than 10,000 native trees planted, to pre-treat road run-off.
Katja Lietz, Kāinga Ora General Manager Urban Planning and Design, says, "The aim to build urban developments that have a sustainability vision is entirely feasible, especially around water sensitive urban design."
Watch: How Innovative Urban Design is Safeguarding Water Quality at Hobsonville Point(external link)
Nature-based urban design
Our developments often include upgraded reserves, waterways and green spaces to increase wetland capacity and improve stormwater retention or detention.
A key example is the recently opened Freeland Reserve in our Mt Roskill development, which was previously an area prone to flooding. Working in partnership with mana whenua, Auckland Council, Piritahi and the community, the previously piped Oakley Creek/Te Auaunga Awa was daylighted and returned to its natural state. The reserve's wetland capacity was also increased with over 100 native trees and close to 8,000 plants, in addition to three new floodwalls to contain flooding.
Not only did this upgrade provide a scenic and welcoming space for the community, it allowed for a much greater level of flood management. In Auckland's floods of January 2023 we saw this in action, as the reserve contained floodwaters and directed it down overland flow paths to protect neighbouring properties.
Read more:
Watch:
Page updated: 28 March 2023