New public housing development opens in New Lynn
26 November 2020
An impressive variety of new warm, dry homes have been officially opened by Housing Minister Megan Woods in West Auckland.
Boasting 80 homes, an office and a community room, the Thom Street development in New Lynn comprises a mix of standalone homes, terraced housing and apartments.
Minister Woods says the new development replaced 16 homes built in the 1940s that were no longer fit-for-purpose.
"This new site reflects the housing needs of the 21st century. This is a place and a space where dreams will be made, where laughter will happen; a very special place that people and families get to call home."
Designed by Young + Richards and built by Dominion Constructors, the new homes range from one to five bedrooms in size. There are ten different types of housing on the site, including two-storey homes, and multiple apartments located in three three-level walk-up buildings. Seventeen of the homes have accessible features.
New resident Ghafoor has just moved into a two-bedroom terrace home with his wife and 13-month-old son. He describes his home as "very beautiful" and says the shared playground is a wonderful additional feature.
"Kāinga Ora is very supportive, and we are very happy here. This is a good place to raise my son."
Kāinga Ora Deputy Chief Executive Construction and Innovation Patrick Dougherty says the homes are built to meet or exceed the New Zealand Building Code.
"This development provides the kind of fit-for-purpose, well-designed housing that's needed in our larger cities. Features include double glazing, thermal curtains and low-maintenance plantings."
With a land area of just over 11 thousand square metres, the Thom Street development makes excellent use of land space. The homes range in size from 51 square metres to 160 square metres, and the development is located in close proximity to public transport, the New Lynn town centre, supermarkets, a library and a community centre.
See more on the Thom Street development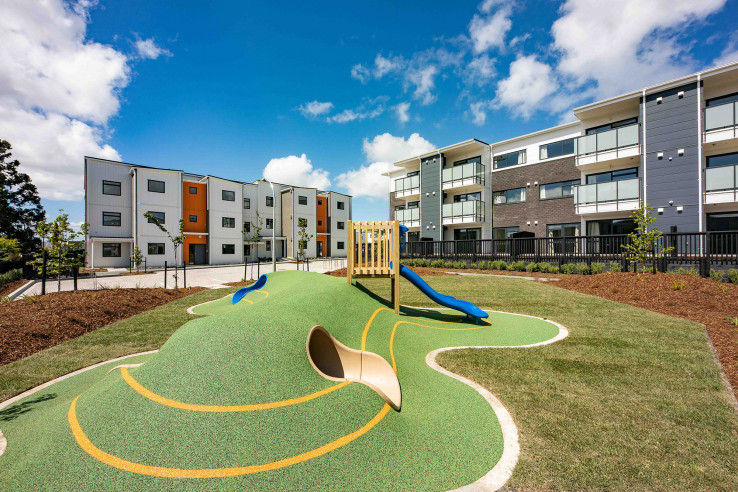 Page updated: 26 November 2020