New homes change lives of two large Hastings families
22 December 2022
Tears are very close to the surface this Christmas for mum of six Paula. Her eyes glaze over when she thinks about the phone call she received from Kāinga Ora saying they had a 4 bedroom home in Hastings she could move into.
Tears also appear when she talks about finally putting a picture on the wall or what she is planning to put in her vegetable garden.
Paula and her children have been on the Ministry of Social Development's housing waiting list for the last five years. They had to move out of the home they were renting when it was put on the market in 2017.
"We are a large family so I knew it was going to be a struggle to find another home," says Paula. "The last five years have been so hard never knowing where we will end up next. There has been no stability for my children. We spent the first 6 months in a motel. Since then we have stayed in emergency accommodation provided by the Salvation Army, Te Taiwhenua and at the Recognised Seasonal Employer (RSE) accommodation in Omahu."
It was while she was in the RSE accommodation that she met the Milo family. They were neighbours for almost a year. The Milo family and their seven children were homeless after also losing their rental property in 2019 when the owner sold up. While living in Omahu the families became friends and the children played together, running between the two homes.
That all changed when the seasonal workers returned and both families went separate ways.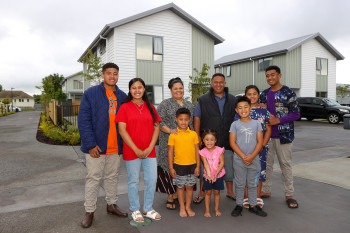 "We moved into our new home just a couple of weeks before Christmas," says Paula. "It was such an exciting day. The house is just beautiful. For a few years I had all my furniture in a storage shed. But because it has been so long I couldn't keep up the payments on it and now I have lost all our stuff. However we don't need a lot; this home is everything we need. The kids are loving having a bedroom and being able to do what they want in it."
Moving day got even better when she glanced over the lane to see her old neighbours from Omaha. The Milo family also got the magic phone call that Kāinga Ora had a 5 bedroom home for Fia, Fred and their children just in time for Christmas.
"When Maria from Kāinga Ora called me, I was speechless" says Fia. "I was so overwhelmed, I just cried."
"Members of our church have been praying for us. And now it feels like all those prayers have been answered. An angel has given us a real home for my family."
"Without that phone call, we would be spending Christmas in two single bedroom cabins - one for the boys and one for the girls - at a local motor camp. We had to go outside to use the communal showers and toilets. We also had to use the communal kitchens but didn't have the pots and pans to cook for our large family. We have mostly been eating at the homes of friends and family."
"The hardest thing about is being homeless was deciding we could not raise our baby here. He went to family in Samoa when he was eight months old. Now he is one year old we can't wait to bring him back to us and his new home."
Paula and Fia are just two Hastings mums who will be enjoying Christmas in a new public home this year. In the 2022 calendar Kāinga Ora has delivered 124 new public homes in Hastings.
"While we still have too many Hastings whānau on the waiting list - 686 applicants as at 1 September, more warm, dry public homes are on their way," says Regional Director East North Island Naomi Whitewood (Ngāti Porou, Ngāpuhi).
"We have 137 new public homes in progress (in procurement, contracted or in development) and Kāinga Ora has contracted another 93 Hastings homes to purchase off developers once they are complete."
"These homes are part of wider work in Hastings to deliver more homes at scale and pace, and through a place-based approach. In 2019, Hastings became a pilot for the government's place-based housing initiatives that provide suitable housing solutions for individual communities. Kāinga Ora is a partner in the Hastings place-based approach, working alongside iwi, Council, local organisations and build partners to find housing solutions for Hastings whānau.
"The strength of the place-based approach is key agencies working together and collaborating to provide a range of housing for low to moderate income households. Partners to the plan all have the same goal – to share resources and develop a practical plan to address the housing needs."
"The experiences of the Bennett and Milo families are why this work is vitally important and we are all committed to it."
Both the Bennett and Milo family now have their Christmas trees up and are looking forward to celebrating in their new homes. The children are once again running between the two houses. A bag of popcorn is taken from one home across to the other home that has a microwave set up. It is shared, as are the balls and scooters that adorn the driveway.
For Paula and Fia, it will be some time before joyful tears stop dampening their eyes on a regular basis.
Page updated: 22 December 2022