More homes for Maraenui, with more on the way
7 May 2021
Nine family homes for transitional housing at Maraneui, Napier are completed and ready for whānau to move in. The homes are one of three developments underway in Maraenui to deliver 31 transitional housing places.

These homes will help get people and whānau out of motels and insecure living situations, into a warm, dry safe place to stay where they receive wraparound support and are helped to find a more permanent place to live.
The development at Bledisloe Road includes two and three-bedroom homes which are standalone and fully accessible, and three four-bedroom homes that are two-storeys.
Regional Director for East North Island, Naomi Whitewood, recognised the importance of these homes for the community, and our wider work across Hawke's Bay to deliver more homes.
"These homes mark good progress in the delivery of more much needed housing in the community, with more to come, and more to do," said Naomi.
"Work is ramping up across Hawke's Bay to deliver more warm, dry and healthy homes at scale and pace to help meet the urgent need in our communities. In Maraneui itself, in addition to the 31 homes we are building for transitional housing in Maraenui, we have another 5 state homes due to start construction later this year, and more on the way."
There are currently around 80 homes in the feasibility, procurement or construction stage across Napier, and under the Government's public housing plan, up to 250 homes across Napier are expected to be delivered by 2024.
This is part of wider work to supply more housing across Hawke's Bay, with over 60 homes delivered in Hastings since 2019 as part of the place-based approach and around 240 homes expected to be delivered by 2024 under the public housing plan.
Supporting people and whānau
The new homes will be built as permanent public housing, and will initially be used for transitional housing(external link). Transitional housing is short-term accommodation for individuals and whānau who have an immediate need for accommodation. Emerge Aotearoa's transitional housing service provides a place for vulnerable people to stay in a safe, caring and supportive environment until they are able to find a suitable long-term housing solution. They have a team of skilled Navigators who support whānau and tenancy and property staff who look after the tenancy and property side of things.
Emerge Aotearoa is contracted by the Ministry of Housing and Urban Development to provide this service, leasing properties like the Kāinga Ora homes at Bledisloe Road, as well as from private owners.
Moana Paul, Housing Operations Manager for Emerge Aotearoa outlined that they have worked to house whānau in these properties who are connected to the Maraenui community.
"Returning to Maraenui will allow these whānau to re-engage, reconnect, and strengthen their networks within the community," said Moana.
"In our conversations with whānau this week about moving into the new homes, they were all overjoyed to the point of tears at coming home to their community, and a warm, dry safe place to stay. Across the 9 new homes, 26 tamariki will move in, out of motel accommodation."
Benefits of offsite manufacturing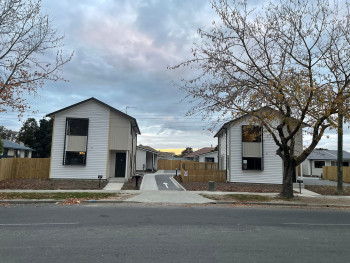 Naomi Whitewood outlined Kāinga Ora is using innovation to help deliver more homes quickly.
"This development has seen the benefits of offsite manufacturing by using the innovative build methods of Concision insulated wall panels. The use of these panels improves accuracy, reduces waste, is faster, and more cost effective. It's remarkable to see how this all comes together quite quickly when using these panels. "
The wall panels are manufactured in the factory with all insulation, wall linings and plastering included in the process. Once the foundations are completed, the panels are transported to site and the home is assembled.
More information
Visit our websites to find out more about Emerge Aotearoa(external link) and information about current homes about to start and under construction in Hawke's Bay