Kāinga Ora backs suicide prevention initiative
7 September 2020
Kāinga Ora will Fly the Flag in the name of positive mental health this month.
To coincide with World Suicide Prevention Day on September 10, mental health charity MATES in Construction is encouraging building sites to fly MATES flags from September 7 to 11. Socially distanced events such as "toolbox talks" will be held throughout the week.
Kāinga Ora Deputy Chief Executive Construction and Innovation Patrick Dougherty says: "Our organisation has a role to play in tackling the stigma around mental health and enabling people in the construction industry to get help when they need it."
The construction sector has the highest proportion of suicides across all industries in New Zealand. Kāinga Ora has been working with MATES in Construction since early this year in a bid to create culture change, Patrick says.
"The Fly the Flag(external link) initiative will serve as a visual reminder that workmates need to look out for each other, and that it's okay to ask for help."
Among the Kāinga Ora build partners taking part in the initiative is Icon, who will Fly the Flag at Kāinga Ora's innovative 139 Greys Avenue development.
"Nothing is more important than the health and wellbeing of our people," says Icon New Zealand Director Dan Ashby, who is also a member of the MATES in Construction board.
"By supporting Fly the Flag we can help normalise conversations around mental health and help foster industry-wide change."
The MATES in Construction mental health programme is available at a number of Kāinga Ora building sites across Auckland and Christchurch and will eventually be rolled out nationwide.
Slade McFarland is the MATES in Construction relationship manager for Kāinga Ora build partners. "The MATES programme helps workers identify mental health warning signs in both themselves and others, and then take appropriate action," he says.
The programme is delivered in three stages, starting with a one-hour induction to equip workers with the skills they need to start discussions with someone who may be struggling.
The team includes field officers and case managers who will provide ongoing support for people who need it.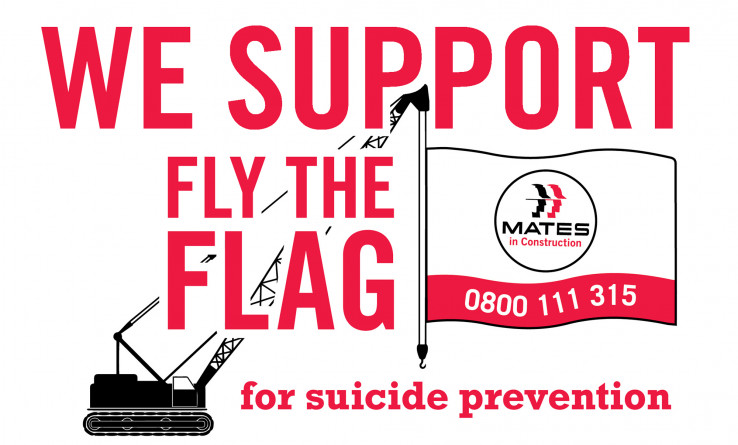 Page updated: 7 September 2020