Gilbert Close, the newest address in Hastings
19 July 2022
Over the next couple of weeks, 28 whānau in need will be waking up in a new warm, dry home on a brand new street. Gilbert Close (off Tomoana Road), Hastings, is the address of the 28 recently completed homes.
The homes have been built by TW Property Group.
To address the urgent need for public housing in Hastings, Kāinga Ora - Homes and Communities has purchased the homes from TW Property Group for public housing.
They are a mix of two and three-bedroom, modern homes in small sections with a community of neighbours nearby. They are healthy homes, fully insulated, with carpets, curtains, and double glazing. Ten of the 28 homes (36%) are accessible. This means that people with mobility needs can live safely with independence.
Regional Director for East North Island, Naomi Whitewood says the completion of these homes is very welcome news to help meet the urgent need for public housing in the area. In the Hastings District, the number of applicants on the MSD Housing Register has increased from 324 applicants in June 2019 to 804 as of 31 March 2022.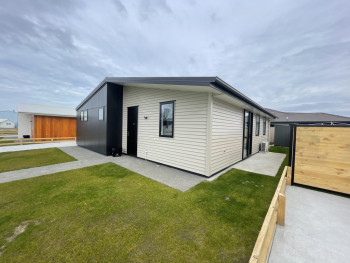 Fourteen of the homes will be used for public housing. Kāinga Ora will match these homes to whānau on the Ministry of Social Development's Housing Register with the highest priority for a home of that size and in that location. Consideration will also be given to whānau, who have an existing connection to Mahora.
Fourteen of the homes have been allocated to transitional housing. Transitional housing provides people in urgent need of a home with a warm, dry, safe place to live while they receive support services and help to find a more permanent place to live. Te Tūapapa Kura Kāinga, Ministry of Housing and Urban Development, have contracted social service provider Te Taiwhenua o Heretaunga who are leasing the homes off Kāinga Ora. They will provide whānau in these homes with wrap-around support.
Te Taiwhenua o Heretaunga are skilled in supporting tenants with various social and tenancy-related services. They are also responsible for maintaining the properties. As of 31 December 2021, Te Taiwhenua o Heretaunga supported 89 transitional homes in Hawkes Bay.
Kāinga Ora and Te Taiwhenua o Heretaunga came together on Friday 15 July to open and bless the 28 homes before whānau in need move in.
Kāinga Ora and Te Taiwhenua o Heretaunga are partners in the Hastings Place-based approach, working alongside iwi, Council, and local organisations and building partners to find housing solutions for Hastings whānau.
The Hastings Place-Based approach is making good progress in understanding the specific housing challenges for Hasting and tailoring responses for them. The partners in the plan all have the same goal – to share resources and develop a practical method to address the housing needs. More than 600 houses will be built by 2023 between all partners in the plan.
The partners include Ngāti Kahungunu, Te Taiwhenua o Heretaunga(external link), Ministry of Housing and Urban Development, Ministry of Social Development, Kāinga Ora – Homes and Communities, Te Puni Kōkiri, Hawke's Bay District Health Board and other housing providers.
Page updated: 19 July 2022