First house built in partnership with Dargaville High School delivered to Kaitaia
21 December 2021
A new five-bedroom, two-bathroom house built by talented teenagers is now a home for a family of 10 in Kaitaia.
The home built by Dargaville teenagers travelled hundreds of kilometres to Kaitaia to meet its new Kāinga Ora family. The whare is the first to be completed for Kāinga Ora by Dargaville High School's Building Academy(external link), which trains young people in careers in the building trade.
The warm, open-plan home has many wheelchair-accessible features, including an external ramp, level-entry external doors, an accessible bathroom, and wider-than-average halls and doorways. It is equipped to Healthy Homes Standards.
The home is one of the largest Kāinga Ora owns in the Far North, where there is a critical housing shortage of affordable family homes.
Kāinga Ora has partnered with the Building Academy to encourage students to learn practical skills and help increase New Zealand's pipeline of construction workers, as part of its commitment to the Construction Sector Accord(external link).
Dargaville students gain experience in all aspects of carpentry, while working under the supervision of qualified builders and teachers. Almost 80 students have attended the hands-on classes, and more than half have gone into trade careers.
Kāinga Ora Programme Director Delivery Nick Seymour said the Building Academy opens doors to a world of opportunity.
"As a former apprentice and then tradie, I am so proud of the partnership we have developed with Dargaville High School and its Building Academy. We wish the students well as they leave school and enter the next phase of their career progression, whichever path they choose," he said.
"A big thanks to the students for building this fine quality home in Kaitaia, and we look forward to seeing more homes completed by the academy in the next few years."
The home travelled more than 200 km from the Dargaville site to its new location. Finishing touches, including the driveway, fencing, foundations and ramp were completed by FNR Group, a Māori-owned business that employs many local people and apprentices.
The Kāinga Ora Apprenticeship Programme has already seen more than 225 apprentices up tools on build and development sites. For more on Kāinga Ora training programmes, contact George Ellis on email Georgina.Ellis@kaingaora.govt.nz
Read more about our Training and apprenticeship programme.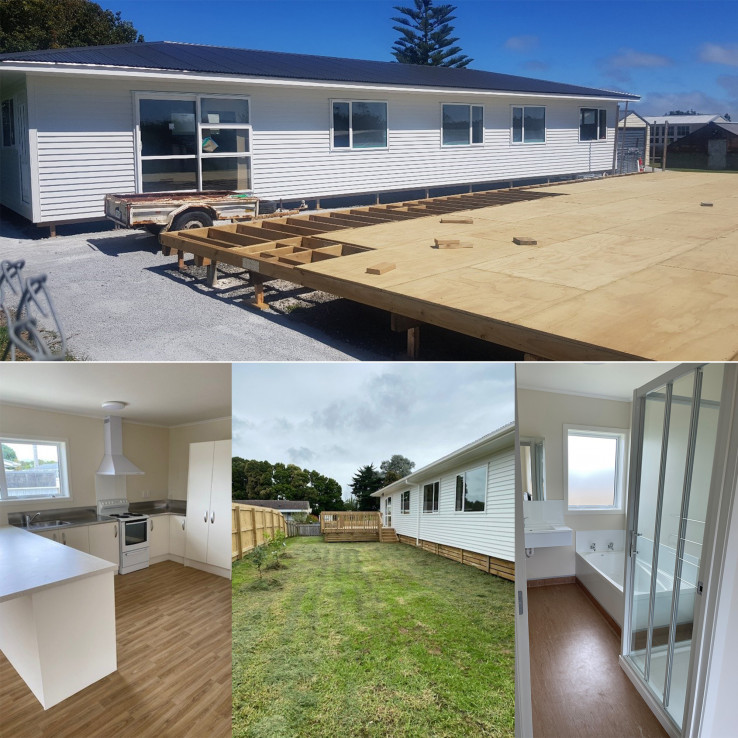 Page updated: 21 December 2021