Bari Lane Digs In
11 March 2020
It was a big day at Māngere's Bari Lane recently as the community was invited to join the fun of Digger Day on one of our biggest sites in that community.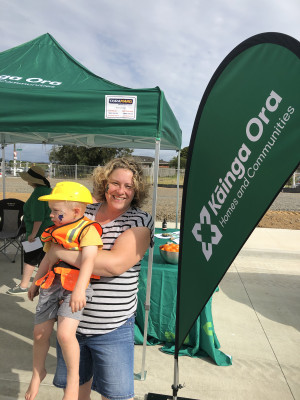 Māngere has one of the largest active housing developments in New Zealand at the moment, especially close by Māngere Centre. Bari Lane has a new extended road that offered the community a chance to jump on a digger to the backdrop of 12 townhouses on the Robertson Road site.
Excavators, rollers and other big machines had lines of excited kids, mums and dads ready for a unique photo opportunity. In the giant sandpit, the face-painted tamariki got stuck in with the buckets and spades, building sand-houses.
Tamariki could also practice a bit of construction with building blocks and bouncy castles equipment while mums and dads grabbed a coffee. A family picnic was offered with a BBQ from the Dempsey Wood team, ice-creams, lollies and plenty of fruit. The Digger Day which attracted a large crowd, was arranged by the teams from Dempsey Wood and Kāinga Ora.
The event also gave the community a chance to get updates on progress of our public housing and the development of market and affordable homes being built. In July 2020, the Bari Lane site will deliver 12 homes (3, 4, 5 and 6 bedrooms) of the 89 homes with the remainder being delivered progressively through until late 2021. Throughout Māngere, Kāinga Ora is working at pace and scale to have a breadth of brand new, warm and dry homes that will have a positive impact and support a thriving community.
Page updated: 11 March 2020