Accessibility at Kāinga Ora
With our Accessibility Policy, we have committed to ensuring that at least 15% of the new homes we are building across the country meet universal design standards, and the rest meet as many of these universal design standards as possible.
Our Policy was developed through extensive engagement with our stakeholders including our customers and their families / whānau.
Key outcomes
The Policy is built around three key outcomes and underpinned by principles and commitments.
1. Increases the numer of our homes that meet universal design standards
Build standards
Review and confirm our universal design standards
New builds
Increase the number of new builds, built to universal design standards
Hold ourselvers to account through a new target
Ensure there are accessible standardised design options
Existing properties
Test universal design standard as part of the scope of our property retrofit through a pilot approach
Evaluate and confirm future scope
Develop a retrofit target
2. Meet the individual needs of customers
Modifications
Support tenants with funding requests
Work with funders to improve the process
Modify the property ourselves or provide a purpose-built property when we have asked the tenant to move
Modify the property ourselves or provide a purpose-built property when it is the most appropriate way to meet the tenants' needs
Specialise solutions
Use demand information to inform specialised solutions for customer groups e.g. aged care, the Deaf community
Continue to provide bespoke solutions to our Community Group Housing tennts
Grow other supported living options as a solution for meeting the needs of disabled people
3. Improve information about customers' needs and the accessibility of our properties
Customer information
Collect and record information about customers' needs.
Asset information
Identify and record the accessability features of our properties.
Our Accessibility Policy on a page [JPG, 1.8 MB]
Principles and Commitments of the Accessibility Policy
"We commit to supporting our customers to live in a home that best suits them"
In developing our Policy, we have been mindful of the need to commit to some operating principles that will inform how we make decisions and interact with our customers going forward.
To this end, Kāinga Ora:
Recognises the need to identify and remove barriers faced by all disabled people, and will achieve greater accessibility by aligning with a culture that recognises the dignity and worth of every individual, within a household, within a community
Will seek to find varied and flexible solutions that meet our customers' needs and allow them to live with dignity and independence for as long as they choose or are able
Will engage, support and advocate for the development of a more inclusive and diverse community
Will focus on removing barriers to full community participation for all our tenants and their whānau
Will produce accessible solutions reflective of what communities need across a range of locations and types of homes
Commits to active engagement with communities including the disability sector, and recognises the integral place the disability sector has in our communities
Has a responsibility to meet our obligations under the United Nations Convention on the Rights of Persons with Disabilities and those contained within the New Zealand Disability Strategy 2016-2026 and its linked Disability Action Plan 2019-2023

(external link)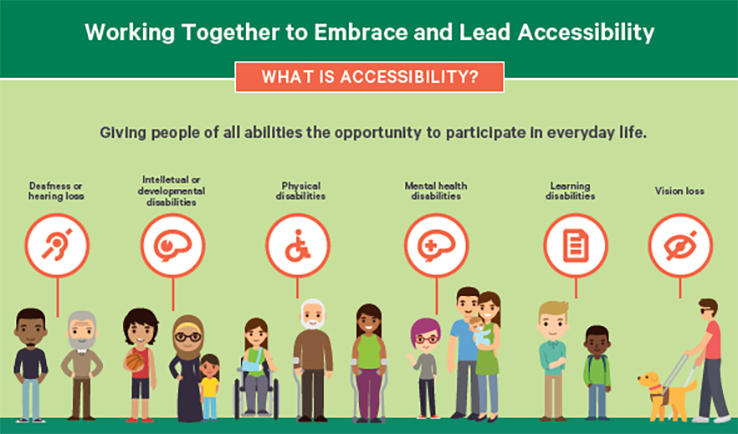 Tools, support and accessible versions of the Policy
List of documents and resources available.
Kāinga Ora Accessibility Policy – (Braille version). If you require this translation please send an email to accessibility@kaingaora.govt.nz with your name, address and contact number. We will courier a copy of this version to you.
Kāinga Ora Accessibility Policy – (NZ Audio DAISY). If you require this translation please send an email to accessibility@kaingaora.govt.nz with your name, address and contact number. We will courier a copy of this version to you.
If you need to contact us about the policy you can contact accessibility@kaingaora.govt.nz
Accessibility Symposium 2020
Twelve months on from our inaugural Accessibility Symposium in 2019, this 2020 event was an exciting opportunity to come together again.
Symposium presentation documents
Accessibility symposium presentation [PDF, 785 KB]
Accessibility symposium housing runsheet logisitcs [DOCX, 40 KB]
Videos
Accessibility Symposium - 29 July
Accessibility Symposium Frequently asked questions session - 7 August
Customer Programme - Supporting Material
Read more on Kāinga Ora's Accessibility Policy(external link)
Welcome from Vui Mark Gosche, Chair Kāinga Ora – Homes and Communities
Kia ora, talofa lava and greetings
On 16 July 2019 I was privileged to welcome attendees to Housing New Zealand's inaugural Accessibility Symposium in Auckland. At that event we sought your feedback on our draft Accessibility Policy, which was subsequently published in November 2019. We committed to holding a follow-up event one year later to update you on progress and as part of our commitment to ongoing engagement.
I'm pleased to announce that a follow-up session will be held on 29 July.
A lot has happened over the past 12 months. A new organisation – Kāinga Ora - Homes and Communities – that incorporates the functions of Housing New Zealand but with a wider range of functions and responsibilities, came into being on 1 October 2019. On a more sombre note, the COVID-19 pandemic has affected everything we do, including how we engage. With that in mind we have planned this Symposium as an on-line event. A benefit of that approach is that if you are outside of Auckland you won't need to travel. We also see this Symposium as the start of a more focused set of interactions with our customers and stakeholders.
I look forward to talking to you on 29 July.
Page updated: 2 September 2021