COVID-19: information for our tenants, partners and suppliers
From 11:59pm on Wednesday 13 April 2022, all of New Zealand will be moving to the Orange traffic light setting under the COVID-19 Protection Framework.
The latest information is now available on the Government's COVID-19 website https://covid19.govt.nz/(external link) which also has information in nearly 30 different languages(external link).
Changes to traffic light levels will include:
Life at Orange
Life at Orange means that:
Workplaces and schools can open
You do not need to wear a face mask outdoors, but face masks are still required in most indoor settings. You must wear a face mask

on domestic flights, and indoor arrival and departure points
on public transport, taxis or ride share vehicles
inside retail businesses (e.g., supermarkets, pharmacies and petrol stations)
inside public facilities (e.g., museums and libraries and courts)
when visiting doctors, healthcare services and vet clinics
at premises operated by local and central government agencies, social service providers, NZ Police, and public areas operated by NZ Post.

There is no requirement to scan into locations you visit or for businesses to display a QR code poster
There are no limits for indoor or outdoor gatherings.
Life at Green
Life at Green means that:
There are no restrictions, but you are encouraged to wear a mask and keep up good health behaviours.
There is no requirement to scan into locations you visit.
There is no requirement for businesses to display a QR code poster or have mandatory record keeping.
If My Vaccine Pass is not being used, different restrictions will apply. These details are available at covid19.govt.nz/traffic-lights(external link)
COVID-19 vaccinations
Everyone in New Zealand aged 12 years and over can book their free COVID-19 vaccination now. If it's been four months since your second dose of the COVID-19 vaccine and you're over 18, you're eligible for a booster. For more information visit the:
Protect yourself, your whānau, and your community
More information
COVID-19 – We are here to help our tenants - Information for our tenants on how Kāinga Ora will support you during COVID-19
COVID-19 – Information about our development sites and partner information - to keep you informed during COVID-19
COVID-19 - Resources - to help New Zealanders. This includes official COVID-19 material, translated and accessible information.
COVID-19 – Services and support- If you've been affected by COVID-19, there is help available to provide you with additional support.
Looking after yourself and others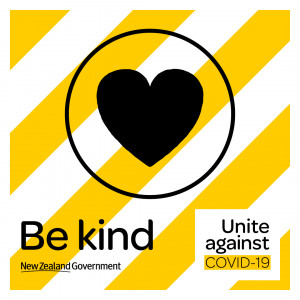 There are some simple steps to help stop the spread of COVID-19.
Follow the Government instructions and self-isolate
Avoid close contact with people with cold or flu-like illnesses.
Cover coughs and sneezes with disposable tissues or clothing.
Stay home if you're unwell.
Keep track of where you've been
Wash hands for at least 20 seconds with water and soap and dry them thoroughly:

before eating or handling food
after using the toilet
after coughing, sneezing, blowing your nose or wiping children's noses
after caring for sick people.
Please remember to be kind, be patient, and to look after one another.
He waka eke noa
We are all in this together
Page updated: 30 May 2022