Back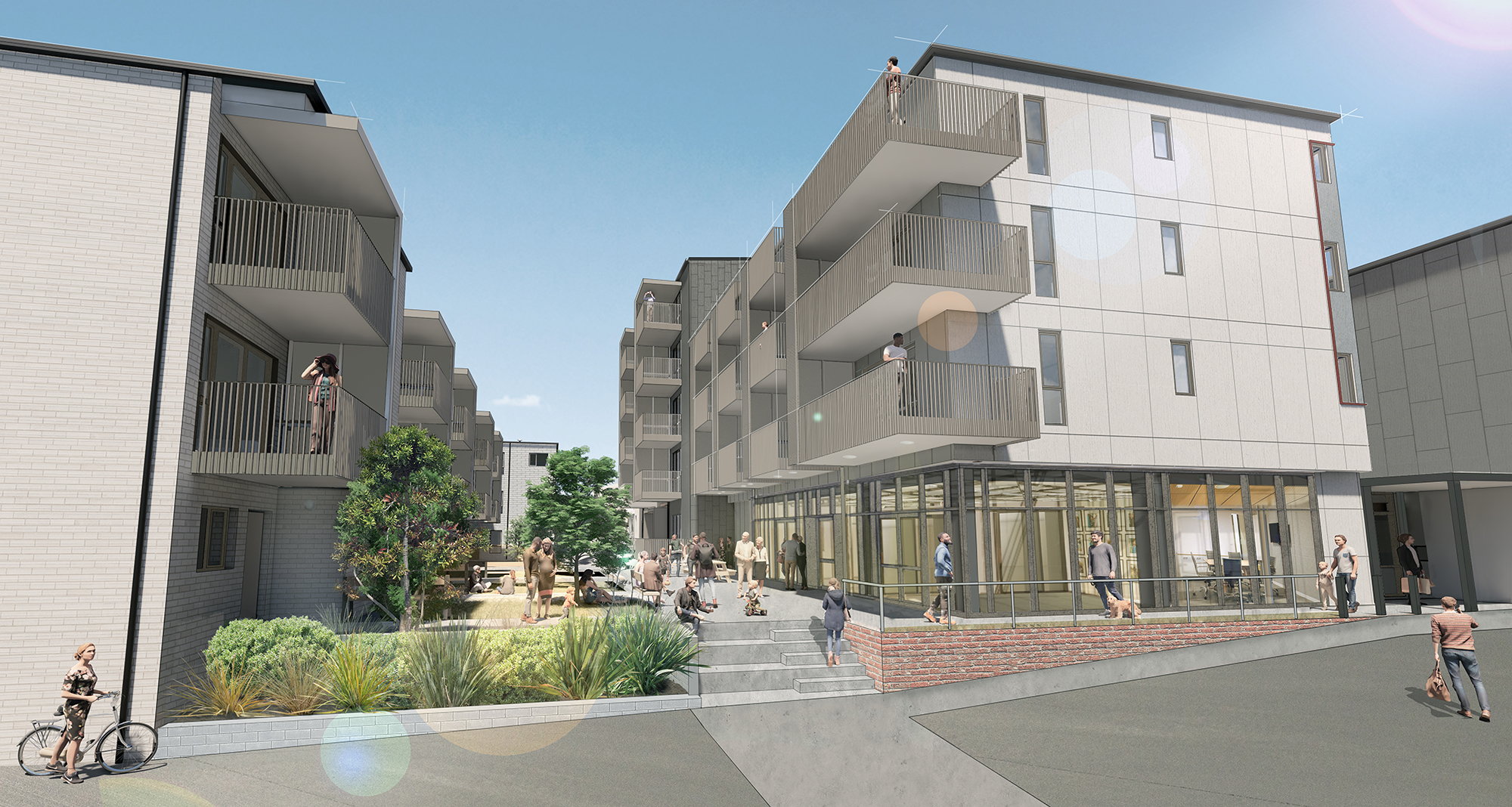 1 / 8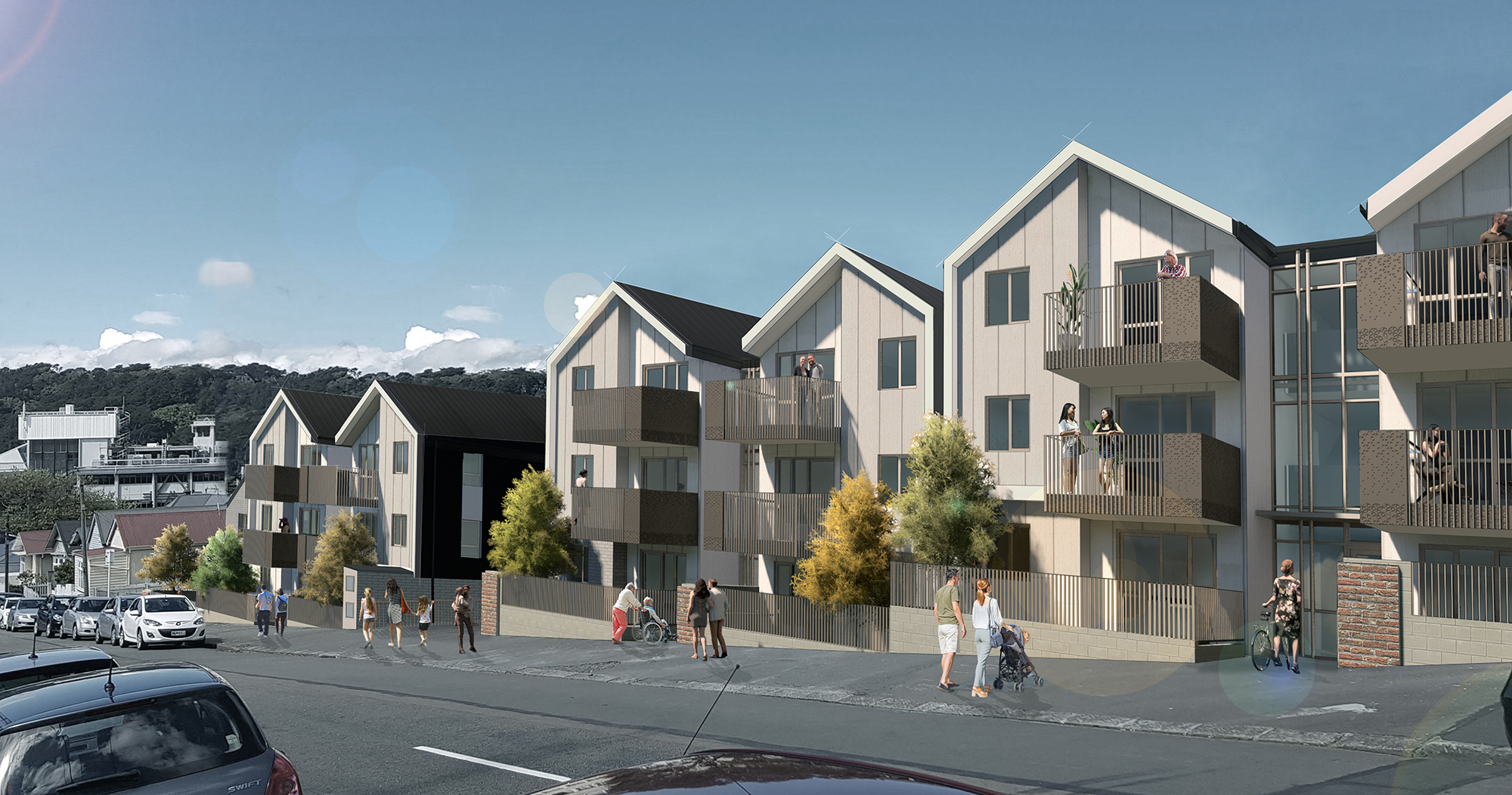 2 / 8
3 / 8
4 / 8
5 / 8
6 / 8
7 / 8
8 / 8
Location:

Rolleston Street, Mount Cook, Wellington, Wellington

Land area:

4,905 sqm

Type:

Apartments

Total new homes:

80

Rooms:

36 one-bedroom, 29 two-bedroom and 15 studios

Status:

Estimated completion date mid-2023
What's planned
The warm, dry and modern medium-high density housing will offer public housing and will have a 24/7 Single-Site Supported Housing service for our customers. There will also be a community space, gardens and extensive landscaping.
The Rolleston Street development will replace 54 old apartments which did not meeting healthy homes standards.
Alongside these homes we're also linking with residents, community groups, stakeholders and partners to grow a supported and connected wider community in this part of the city – which has a rich history of providing key worker and social housing for people in central Wellington.
Timelines
Please note: large and complex projects of this size have many variables, so timeframes could change
| | |
| --- | --- |
| When | What's happening |
| October 2019 | Resource consent granted by Wellington City Council |
| July 2020 | Site blessing at Rolleston Street |
| August – September 2020 | Site preparation |
| September 2020 | Construction starts |
| Mid-late - 2023 | Completion of homes |
Plans, drawings and resources
News and media
Letters
Plans, consents, reports
Mount Cook Community Reference Group
The community reference group is a forum for community feedback and involvement, alongside updates from Kāinga Ora and its contractors as new homes are built at Rolleston and Arlington. Find more informationon on the Community Reference Group page.
Tell us more about your new homes at your Rolleston site.
We will be building 80 new, warmer, drier homes between Rolleston and Hargreaves Streets. These will replace 54 old apartments that did not meet the healthy homes standards.
This development will be made up of 36 one-bedroom, 29 two-bedroom and 15 studio apartments in a mix of two through to five story buildings. These modern, warm and dry homes will be fully insulated, with carpets, curtains and double-glazing.
There will be shared community spaces, landscaped areas and gardens.
We anticipate Rolleston will be completed by mid-2023.
View the site map [PDF, 2.4 MB]
Who will live in the new homes?
The Rolleston development will bring an additional 80 new, warm, dry, healthy homes to Mt Cook. They will provide much needed housing to a range of customers, from individuals to couples and small families. A maximum of 20 homes have been allocated to customers who require a higher level of support.
Kāinga Ora will match homes to individuals and families on the Ministry of Social Development's Housing Register, who have the highest priority for a home of that size and in that location.
What is supported housing?
Supported housing combines public housing with services that help people live more stable, productive lives. It is developed by packaging housing together with flexible and holistic support which is designed to meet each person's individual needs. These may include, but are not limited to counselling, employment assistance, healthcare, budgeting and skill development that can empower and enable individuals to live stable lives with dignity.
What might supported housing look like at Rolleston?
At our Rolleston Street development, supported housing will be delivered using a Single-Site Supported Housing model. Single-Site Supported Housing combines permanent housing with on-site support services to support residents 24/7.
The Single-Site Supported Housing model will be tailored to the Rolleston development and is designed to improve the health and well-being outcomes for people. While this model is relatively new to New Zealand, this model is successfully used widely across the world supporting some of the most vulnerable populations.
Later this year the Ministry of Housing and Urban Development will begin a procurement process to find a suitable support service provider for our Rolleston site. As soon as the contract has been signed, Kāinga Ora will start to work with the provider to create an operational model that offers tailored support to meet each customer's needs.
Are there any other Single-Site Supported Housing developments in New Zealand?
Yes, the Single-Site Supported Housing model is also going to be used within the Kāinga Ora development, Greys Ave in Auckland.
Greys Ave will see 276 new homes created within Central Auckland. Due to the size of the site, Greys Ave will include 3,000sqm of shared, communal, commercial and office spaces. This alongside shared amenities have been specifically designed to create a welcoming, supportive, and connected community within an environment that promotes greater health and wellbeing outcomes.
While the Single Site Support Housing model is being used at both sites, the Rolleston development is significantly smaller than Greys Ave and therefore the model will be tailored to ensure it is fit for purpose for the homes.
What will Single-Site Supported Housing look like at Rolleston?
We are currently working to tailor the Single-Site Supported Housing model to ensure it is fit for purpose for the Rolleston development.
We can confirm, that there will be 24/7 on-site services to support residents including concierge and community guardianship at Rolleston along with tenancy support and facilities management.
Over the coming months we will continue to work alongside our funding provider Ministry of Housing and Urban Development, the Greys Ave team and key delivery agencies to develop an operational model.
Will Rolleston have 24-hour support available onsite and how will this be delivered?
There will be 24/7 on-site support for customers. This will include support services to enable residents to access support whenever they need and a concierge service to provide community guardianship.
What might a concierge service look like at Rolleston?
We're looking to create a 24/7 concierge service in Rolleston street to enhance the feelings of safety and security for Kāinga Ora customers, visitors and wider community. This service includes welcoming visitors and customers into the building, helping them to navigate the site, helping them to connect/access resources and information or working alongside the service provider to support customers.
What will Kāinga Ora do to support their customers (tenants)?
Kāinga Ora have adopted new approaches to improve our ability to support behaviour change. These include partnerships with justice, social and health agencies, specialised intervention teams, tenant retransfer policies and community based teams. Kāinga Ora also have an intensive tenancy management service, with dedicated and specialist staff who work with other agencies to address issues.
In November 2021, we started to roll out Kāinga Ora's new Customer Programme. Our Customer Programme significantly increases capacity in our frontline teams, which will reduce the number of homes our people look after. This will mean our most experienced and proven teams can focus on working with a smaller group of tenancies.
With smaller portfolios, Kāinga Ora Housing Support Managers are able to be more visible on site and build better connections with customers and wider community.
Where will the supported housing tenants live in Rolleston?
All tenants at Rolleston Street will be living in supported housing as they are all eligible to receive support from the on-site Single Site Supported Housing Service. The support service provider will work with Kāinga Ora to understand the support needs of tenants and assist them with the decisions about the placement within the development.
Who will be the service provider at Rolleston?
Kāinga Ora will work in partnership with the Ministry of Housing and Urban Development to appoint an appropriate service provider in 2023.
Following the completion of Rolleston homes, if I have concerns who can I contact?
We want to be good neighbours, so if you have any concerns about:
Tenancy matters – please contact Kāinga Ora on 0800 801 601 or mtcook@kaingaora.govt.nz
Noise – please contact Wellington City Council on 04 499 4444 or info@wcc.govt.nz
Animal welfare – Please contact Wellington City Council and/or SPCA 04 389 8044
Safety/illegal activity – please call 111 if a crime is taking place or there is a threat to life/property, or 105 to report a non-emergency.
We will work with each agency and our tenants to help resolve any outstanding concerns.
For more information
See more of what is planned for the Wellington region or if you have any questions contact:.
Upper Hutt, Wairarapa, Johnsonville, Ngaio, Wellington central, Rolleston and Eastern suburbs
Contact Caroline Speight, Stakeholder Relationship Manager, by email or freephone 0800 801 601 and ask to be transferred.
Lower Hutt including Stokes Valley and Wainuiomata
Contact Jo Burleigh, Senior Stakeholder Relationship Manager, by email or freephone 0800 801 601 and ask to be transferred.
Kapiti Coast, Porirua, Mount Cook, Newtown and Berhampore
Contact Josh Clark, Senior Stakeholder Relationship Manager, by email or freephone 0800 801 601 and ask to be transferred.
Page updated: 7 October 2022