COVID-19: information for our tenants, partners and suppliers
Information about our offices
Auckland region
Our Auckland Kāinga Ora offices will be closed. We are working remotely and here to help our customers.
If you need to get in touch, call our Customer Service Freephone on 0800 801 601.
Rest of New Zealand
All regions in New Zealand, except for the Auckland region, will move to Alert Level 2 at 12 noon on Wednesday 12 August 2020.
Our offices outside the Auckland region are open.
If you need to get in touch, call our Customer Service Freephone on 0800 801 601.
We are here to help our tenants
Wellbeing checks on our tenants
During the Alert Level restrictions, we have called our tenancy customers to check on their wellbeing, and have a chat about COVID-19 and how it may be impacting them. In Alert Level 1, we may complete wellbeing checks in person, at your home.
During the visit, we will be following all health and safety procedures to ensure you feel safe and comfortable. If you are unwell or do not want us to visit you at home, please call our Customer Support Freephone on 0800 801 601 to let us know.
Rent freeze for all tenants
As part of COVID-19 measures, the Government has made changes to the Residential Tenancies Act, including freezing all residential rent increases for 6 months, effective from 26 March 2020 until 25 September 2020.
Approximately 6,000 of our tenancy customers would have received a rent increase letter from us in recent weeks. This is no longer happening so we have been contacting those customers impacted by phone, followed up with a letter, to let them know there will be no rent increase as a result of the recent rent freeze that was introduced.
You can call our Customer Service Freephone: 0800 801 601 to speak to us. There is other information about how to get in touch in Contact Us section of our website.
Moves into Kāinga Ora homes
Ministry of Social Development Housing Register
We are placing applicants on the Ministry of Social Development Housing Register into Kāinga Ora homes. All placements can be done over the phone or in person.
Existing tenants moving homes
Existing tenants may need to move to another Kāinga Ora home for various reasons. If you need to move, please call us to talk about your situation, housing needs and what housing options you may have. Our team will be working to help place existing customers into new homes.
If you have any questions, please call us on 0800 801 601. All calls are free, including from a mobile phone.
Tenants guidelines when furniture movers are helping our tenants move in - available in
Supplier guidelines for furniture movers
Any questions, you can call us on 0800 801 601. Calls are free even if from a mobile phone.
Visiting our tenants at home

We will soon re-start our routine inspections. Your tenancy manager will contact you if they need to schedule a visit. If a visit is scheduled and you or someone in the household is unwell, please call our Customer Support team so we can postpone the date of the inspection.
Repairs and maintenance
Our maintenance contractors will continue to visit your home to carry out repairs. Before a contractor visits your home, please let us know if you or anyone in your household has been diagnosed with COVID-19, experiencing symptoms or has recently been unwell.
Our contractors will call to make an appointment with you prior to visiting (unless they are considered emergency repairs). On arriving, and before they enter your home, they will check to ensure your situation has not changed. We will respond to all emergency repairs within four hours.
If you need to log a repair, please call our Customer Service Freephone 0800 801 601. We will work with you and our maintenance contractors to ensure the repair is fixed.
.
Services and support available

If you've been affected by COVID-19, there is help available to provide you with additional support.
Financial support
If you've been affected by COVID-19 Work and Income may be able to provide financial support.
To find out what help may be available you can visit the Ministry of Social Development website and please let us know your circumstances.
Family violence
Family violence experts and organisations have warned about the increased risk of domestic violence in households during the country's Alert Level restrictions.
Kāinga Ora is committed to playing a key part in supporting the Government's co-ordinated response to eliminating family violence so we keen keep our families and communities safe. We have gone out to our customers to let them know that help is available from family violence support services nationwide.
Remember, if someone is in immediate danger of being harmed or may harm themselves, call the Police on 111.
Access to food and essential items
Most people can access food, medicine and other essentials for themselves and their whānau. People can do this either through their own means or through their community providers or support networks like whānau, friends, iwi and neighbours.
If you are unable to access food and essential items, call your tenancy manager on 0800 801 601.
You can also access more information on the COVID-19 website.
Health advice
If you need urgent medical assistance for severe symptoms of any kind, or have a serious injury, call emergency services on 111, or go straight to hospital.
If you are concerned about possible COVID-19 symptoms, call the dedicated COVID-19 Healthline number on 0800 358 5453.
For any other health concerns, call the general Healthline number on 0800 611 116. All calls to Healthline are free and someone is available 24 hours a day, 7 days a week.
The COVID-19 website has more information on how to access healthcare assistance.
Looking after your mental wellbeing
It is normal to feel anxious or stressed about COVID-19. If you need to talk to anyone about how you're feeling, there is help available through the National Telehealth Service. Call or text for free to 1737 or visit: https://www.1737.org.nz/
The COVID-19 website has more advice on how to look after your emotional and mental wellbeing during this time.
Other tools to help your wellbeing
Getting through together - You can find tips and advice on how to cope with the stress of COVID-19 in the Getting Through Together toolkit, developed by All Right? in partnership with the Canterbury DHB and the Mental Health Foundation.
Mentemia - The Mentemia app provides practical tips and techniques to help you take control of your mental wellbeing. It was created by All Blacks legend and mental health advocate Sir John Kirwan, tech entrepreneur Adam Clark, and an expert team of medical advisors.
Melon - The Melon app provides a health journal, resources and self-awareness tools to help you manage your emotional wellbeing. Melon also provides an online community for New Zealanders to connect and support each other, and daily webinars for health and wellbeing.
Staying on Track - This online course teaches practical strategies to cope with the stress and disruption to everyday life from COVID-19. Staying on Track
Keep safe from fraud and online scams

Scams and frauds exploiting the spread of COVID-19 have been noted overseas and are expected to be seen in New Zealand. They may arrive in the form of an email, text, phone call or through social media.
Information for our tenants
At this time, we are increasingly using text, email and phone to get in contact with you. Remember that Kāinga Ora will never ask you to pay rent or any money over the phone or via email or text. If we do contact you to discuss rent or payment options, we will only discuss how much is owing on the account, understand what has happened, and talk through and agree a payment plan.
If you are contacted by someone claiming to be from Kāinga Ora and they ask for your personal bank account information, or you have received an email from Kāinga Ora with a link or request for money, call our Customer Support Centre immediately on 0800 801 601.
Information for our maintenance contractors
Kāinga Ora staff who usually interact with maintenance contractors will continue to work from home through Alert Level 4 and 3, and potentially beyond.
To connect with you in future, we will be using a range of channels, including FaceTime, Zoom, and Teams in addition to the normal channels used prior to the COVID-19 Alert Level 4 restrictions.
For Zoom meetings between organisations, ensure the connection is secure and include a password requirement and meeting ID number for all group members. This will ensure that only those people invited to the meeting are in attendance.
If you have any concerns about the authenticity of any communication that appears to be from us, contact your Kāinga Ora liaison.
As New Zealand heads back to work, we remind you that if you are going onsite to any of our properties, you are required to present your ID at any time and maintain two metre physical distancing with our customers.
When interacting with our tenants at these properties, be mindful that many of them are in a vulnerable position. We appreciate your contribution to being part of a team that supports our tenants to feel safe and secure in their homes.
For more information on what to watch out for and where to report scams, visit the following websites:
COVID-19 Investment scams: Financial Markets Authority
COVID-19 Phishing and cyber scams: CERT
Information for people interested in buying a KiwiBuild or market home
Viewing homes under Alert Level 2 & 3
Open homes in Auckland may not happen while the city is at Alert Level 3. Open homes and viewings in other regions may still be taking place while they are at Alert Level 2.
If you were planning on attending an open home, it's best if you contact the developer or real estate agent in advance to check if the open home is still going ahead or discuss your viewing options. Remember to include any open homes or viewings you attend in your COVID-19 contact diary or on the NZ COVID Tracer app
All available and upcoming homes are on the KiwiBuild website. You can get in touch with the KiwiBuild team at info@kiwibuild.govt.nz or call 0800 521 107 to arrange a call back.
We'll keep you updated as more information is released.
Information about our development sites
Construction under Alert Level 3 (Auckland) and Alert Level 2 (rest of New Zealand)
The Government announcement that took effect from noon, Wednesday August 12, about placing Auckland into Alert Level 3 and the rest of the country into Alert Level 2 means some changes to how we operate on construction sites.
Following the Prime Minister's announcement that community transmission has been confirmed, some increased restrictions have been re-introduced for our build sites.
Moving Auckland into Alert Level 3 means work can continue on sites across the region with strict hygiene, health and safety and physical distancing measures in place – the same approach we and our partners took when the country moved to Alert Level 3 back in late April this year.
For the rest of the country – now in Alert Level 2- work can also continue on construction sites. Under this level, physical distancing of one metre between workers is to be maintained wherever possible and increased hygiene measures must be reinstated.
Where physical distancing is not able to be maintained on sites operating at either Alert Levels 2 or 3, the use of face coverings, such as a bandanna, or a non-surgical mask, is strongly encouraged.
Restrictions for both Alert Levels will remain in place until midnight on Friday 14 August and information on this will be updated as soon as it is made available.
Partner publications and information
Background information

The Government moved New Zealand to Alert Level 1 at 11.59pm on Monday, 8 June.

Previously, the Prime Minister announced to all New Zealanders that the COVID-19 alert level will move to Alert Level 2 at 11.59pm on Wednesday 13 May, Level 3 was at 11.59pm on Monday 27 April. Alert Level 4 came into effect at 11.59pm on Wednesday 25 March 2020.

For general information, not medical advice visit the https://covid19.govt.nz/ website or you can contact the government helpline on 0800 779 997 between 8am to 5pm, 7 days a week.

If you are feeling unwell and want medical advice, you should first call Healthline on 0800 358 5453, your doctor or other healthcare provider. Healthline is currently very busy so please be patient.

The Ministry of Health's website also has information.
Looking after yourself and others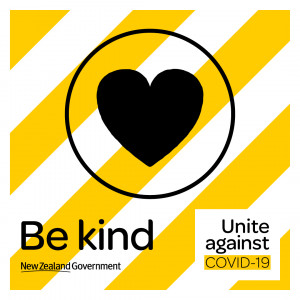 There are some simple steps to help stop the spread of COVID-19.
Follow the Government instructions and self-isolate
Avoid close contact with people with cold or flu-like illnesses.
Cover coughs and sneezes with disposable tissues or clothing.
Stay home if you're unwell.
Wash hands for at least 20 seconds with water and soap and dry them thoroughly:

before eating or handling food
after using the toilet
after coughing, sneezing, blowing your nose or wiping children's noses
after caring for sick people.
Please remember to be kind, be patient, and to look after one another.
He waka eke noa
We are all in this together
Page updated: 12 August 2020