COVID-19: information for our tenants, partners and suppliers
Information about our offices
All our Kāinga Ora offices are open under Alert Levels 1 and 2.
If you need to get in touch, call our Customer Service Freephone on 0800 801 601.
All Kāinga Ora offices will display QR code posters during all Alert Levels. The posters will be displayed in a prominent place, at or near the main entrance. Please ensure you check-in as you enter the building.
If you are unwell, don't travel - please stay home. We can do most things on the telephone.
More helpful information
COVID-19 – We are here to help our tenants - Information for our tenants on how Kāinga Ora will support you during COVID-19
COVID-19 – Information about our development sites and partner information - to keep you informed during COVID-19
COVID-19 - Resources - to help New Zealanders. This includes official COVID-19 material, translated and accessible information.
COVID-19 – Services and support- If you've been affected by COVID-19, there is help available to provide you with additional support.
COVID-19 – Information for people interested in buying a KiwiBuild or market home during COVID-19
Background information
The Government moved Auckland to Alert Level 3 at 11.59pm on Wednesday 12 August. The rest of the country moved to Alert Level 2 at the same time.
Previously, the Prime Minister announced to all New Zealanders that the COVID-19 alert level will move to Alert Level 1 at 11.59pm on Monday, 8 June, Level 2 was at 11.59pm on Wednesday 13 May, Level 3 was at 11.59pm on Monday 27 April. Alert Level 4 came into effect at 11.59pm on Wednesday 25 March 2020.
For general information, not medical advice visit the https://covid19.govt.nz/(external link) website or you can contact the government helpline on 0800 779 997 between 8am to 5pm, 7 days a week.
If you are feeling unwell and want medical advice, you should first call Healthline on 0800 358 5453, your doctor or other healthcare provider. Healthline is currently very busy so if you are seeking general information, please visit the official Unite against COVID-19 website in the first instance.
The Ministry of Health's website(external link) also has information.
Looking after yourself and others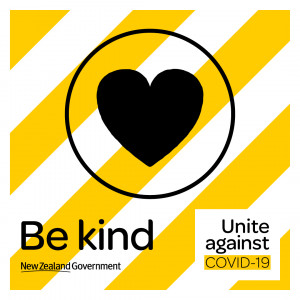 There are some simple steps to help stop the spread of COVID-19.
Follow the Government instructions and self-isolate
Avoid close contact with people with cold or flu-like illnesses.
Cover coughs and sneezes with disposable tissues or clothing.
Stay home if you're unwell.
Keep track of where you've been
Wash hands for at least 20 seconds with water and soap and dry them thoroughly:

before eating or handling food
after using the toilet
after coughing, sneezing, blowing your nose or wiping children's noses
after caring for sick people.
Please remember to be kind, be patient, and to look after one another.
He waka eke noa
We are all in this together
Page updated: 17 November 2020