Back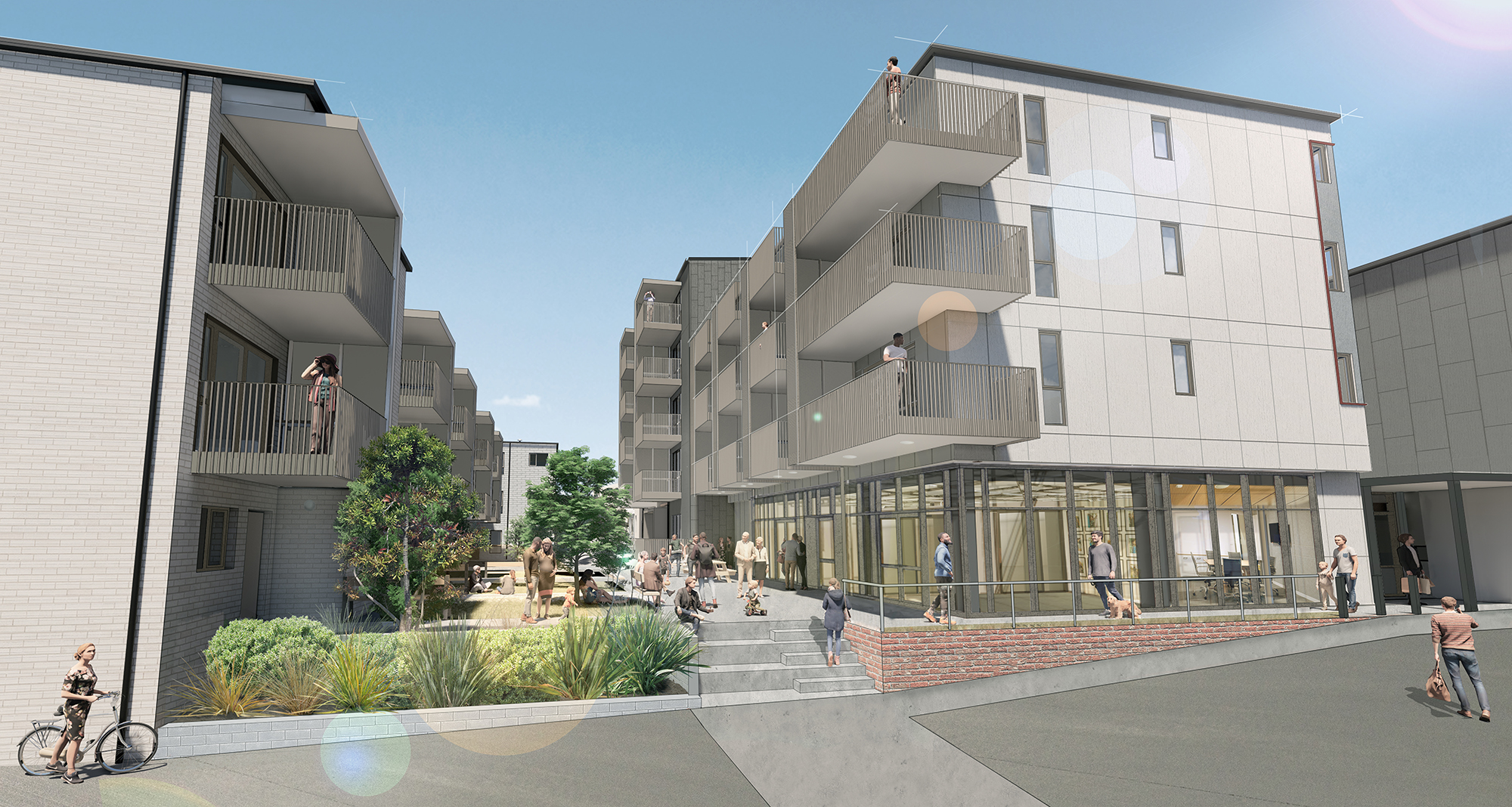 1 / 6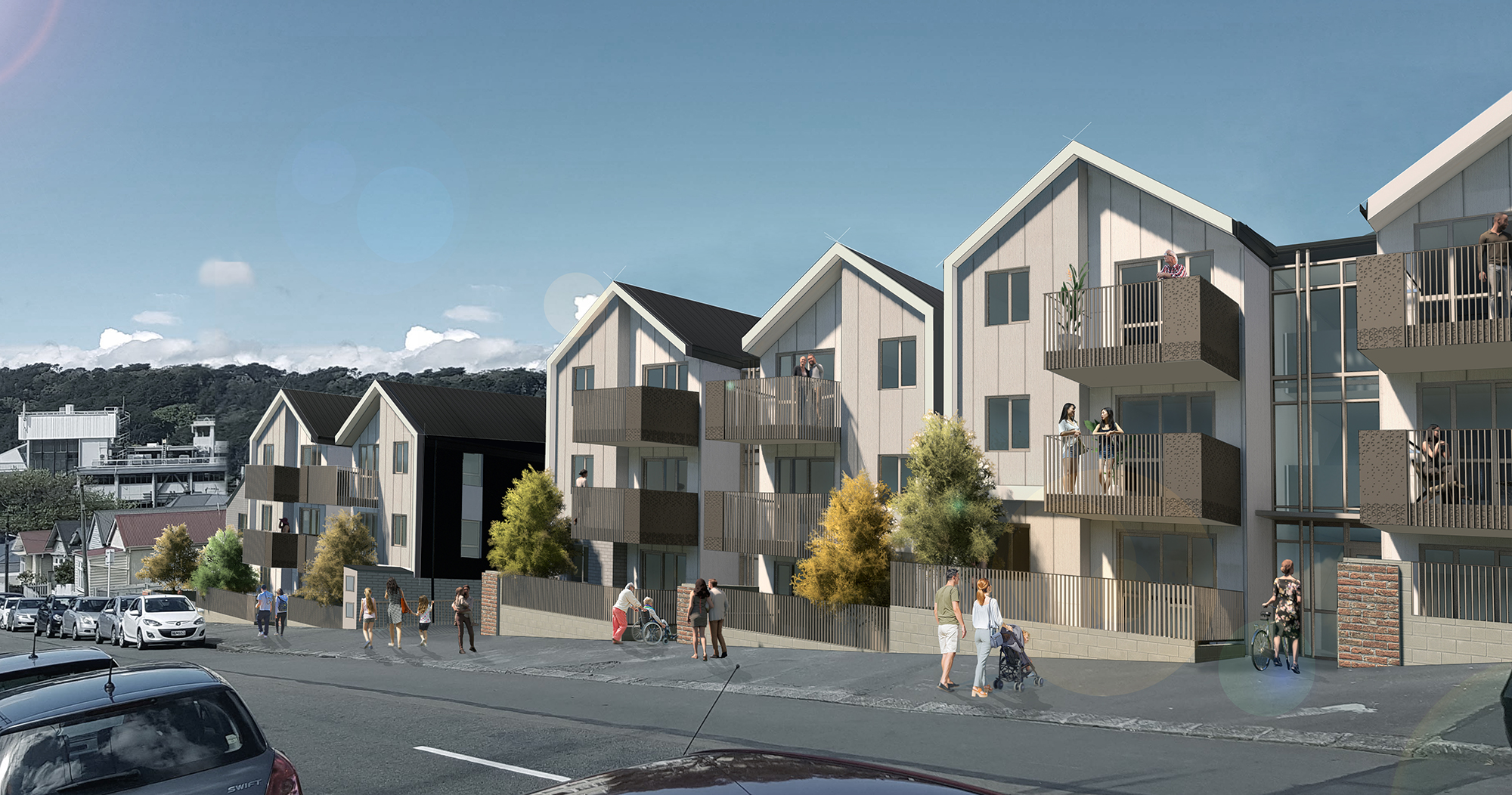 2 / 6
3 / 6
4 / 6
5 / 6
6 / 6
Location:

Rolleston Street, Mount Cook, Wellington, Wellington

Land area:

4,905 sqm

Type:

Apartments

Total new homes:

80

Rooms:

36 one-bedroom, 29 two-bedroom and 15 studios

Status:

Estimated completion date first half of 2023
What's planned
The warm, dry and modern medium-high density housing will offer a mix of public, affordable and supported living homes. They will range in size to meet the needs of a range of people from those on their own, through to large families. There will also be community centres, parks, play areas, gardens and extensive landscaping.
Rolleston will replace 54 old apartments which did not meeting healthy homes standards. All homes will be for public housing and will include 20 Housing First supported housing homes(external link)
Alongside these homes we're also linking with residents, community groups, stakeholders and partners to grow a supported and connected wider community in this part of the city – which has a rich history of providing key worker and social housing for people in central Wellington.
Timelines
Please note: large and complex projects of this size have many variables, so timeframes could change
| | |
| --- | --- |
| When | What's happening |
| October 2019 | Resource consent granted by Wellington City Council |
| July 2020 | Site blessing at Rolleston Street |
| August – September 2020 | Site preparation |
| September 2020 | Construction starts |
| Mid-2023 | Completion of homes |
Plans, drawings and resources
News and media
Letters
Plans, consents, reports
Mount Cook Community Reference Group
The community reference group is a forum for community feedback and involvement, alongside updates from Kāinga Ora and its contractors as new homes are built at Rolleston and Arlington. Find more informationon on the Community Reference Group page.
Contact us
A project manager will be at the Rolleston site from 8.00 -9.00 am, every Monday. If you have any questions or concerns pop along to our site office to have a chat with them.
If you have any questions or want to subscribe to updates, please contact Caroline Speight, Stakeholder Relationship Manager:
Tell us more about your new homes at your Rolleston site.
We will be building 80 new, warmer, drier homes between Rolleston and Hargreaves Streets. These will replace 54 old apartments that did not meet the healthy homes standards.
This development will be made up of 36 one-bedroom, 29 two-bedroom and 15 studio apartments in a mix of two through to five story buildings. These modern, warm and dry homes will be fully insulated, with carpets, curtains and double-glazing.
There will be shared community spaces, landscaped areas and gardens.
We anticipate Rolleston will be completed by mid-2023.
View the site map [PDF, 2.4 MB]
Who will live in the new homes?
The Rolleston development will bring an additional 80 new, warm, dry, healthy homes to Mt Cook. Of these, 20 homes have been earmarked for supported housing under the Housing First Scheme(external link). These homes will be managed in partnership by an approved Housing First Provider(external link).
Kāinga Ora will match homes to individuals and families on the Ministry of Social Development's Housing Register, who have the highest priority for a home of that size and in that location.
The size of the homes means they will be suitable for individuals, couples and small families.
What is supported housing?
Supported housing combines public housing with services that help people live more stable, productive lives. It is developed by packaging housing together with flexible supportive services that are designed to meet each person's individual needs. These may include, but are not limited to counselling, employment assistance, healthcare, budgeting and skill development that can empower and enable individuals to live stable lives with dignity.
What might supported housing look like at Rolleston?
Details of the operating model for the Rolleston development have not yet been developed. Kāinga Ora is currently engaging with Housing First providers in Wellington to ensure the preferred provider has the appropriate skills and experience to deliver supported housing at Rolleston.
Once we start the procurement process, Kāinga Ora will follow Government Procurement Rules to offer a contract to our preferred provider for supported housing at Rolleston. As soon as the contract has been signed, we will start to work with the provider to create an operational model that offers tailored support to meet each customer's needs.
Will Rolleston be considered for 'wethouse' accommodation?
The approach used by Kāinga Ora to housing and supporting people with complex needs is aligned to international best practice. Whilst early concepts for the Rolleston development included looking at a variety of options, including a Te Whare Okioki (wethouse), the Housing First model was selected as it has a proven track record overseas, is supported by the Ministry of Housing and Urban Development and aligns to the strategic approach of key service providers in the Wellington area.
Will Rolleston have 24-hour care available onsite?
The vast majority of our customers live stable and productive lives independently. Some will require wraparound support, tailored to their individual needs. This will be reviewed and managed by providers on a case-by-case basis. Customers who require 24-hour care will be provided with this level of support.
What will Kāinga Ora do to support their customers?
Kāinga Ora have adopted new approaches to improve our ability to support behaviour change. These include partnerships with justice, social and health agencies, specialised intervention teams, tenant retransfer policies and community based teams. Kāinga Ora also have an intensive tenancy management service, with dedicated and specialist staff who work with other agencies to address issues.
In November 2021, we started to roll out Kāinga Ora's new Customer Programme. Our Customer Programme significantly increases capacity in our frontline teams, which will reduce the number of homes our people look after. This will mean our most experienced and proven teams can focus on working with a smaller group of tenancies.
With smaller portfolios, Kāinga Ora Housing Support Managers are able to be more visible on site and build better connections with customers and wider community.
Is the local community going to be involved with choosing a provider for Housing First services?
In late 2021 and early 2022 we started to inform the community about the services delivered by Housing First providers in Wellington City.
We will continue to keep the Community Reference Group informed through the process, but the selection of the preferred Housing First Provider for Rolleston will need to be decided through the Kāinga Ora procurement process.
Where will the supported housing tenants live in Rolleston?
Our supported housing tenants will be located throughout block D [PDF, 2.4 MB]. This block will also include a communal area for our supported housing tenants.
Following the completion of Rolleston homes, if I have concerns who can I contact?
We want to be good neighbours, so if you have any concerns about:
Tenancy matters – please contact Kāinga Ora on 0800 801 601 or mtcook@kaingaora.govt.nz
Noise – please contact Wellington City Council on 04 499 4444 or info@wcc.govt.nz
Animal welfare – Please contact Wellington City Council and/or SPCA 04 389 8044
Safety/illegal activity – please call 111 if a crime is taking place or there is a threat to life/property, or 105 to report a non-emergency.
We will work with each agency and our tenants to help resolve any outstanding concerns.
Page updated: 3 February 2022